The world's smallest, high-volume split recycler counts cash and coin drawer in under 45 seconds
Grapevine, TX – June 5, 2023 – Today, Cassida PRO is at NRF Protect to demonstrate the SR-B1, the newest model in its RevolAIR line of split recyclers, offering a safer way to automate cash operations in a timely manner at a fraction of the cost of a back-office recycler. Cassida PRO will be providing demonstrations on the SR-B1 at NRF Protect, booth 233. More information can be found at https://cassidapro.com/nrf-protect/.
The low cost of the SR-B1 makes cash room automation safe and accessible, and with features like counterfeit detection, helps manage loss prevention, digital fraud and more. Its human-centered design and patented approach make open-air cash recycling fast and accurate.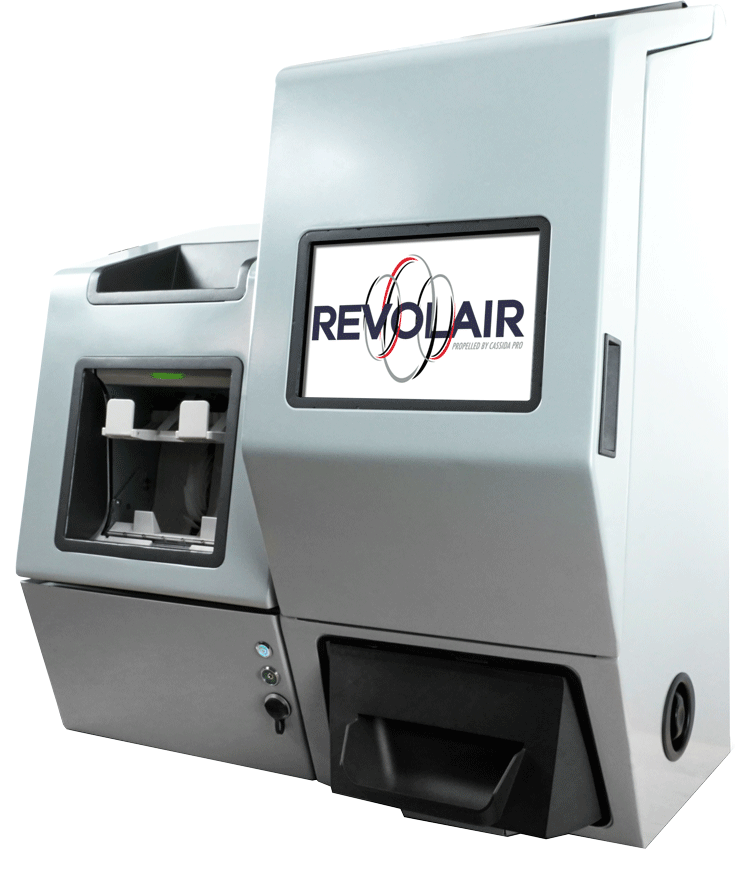 Cassida PRO's RevolAIR SR-B1
The RevolAIR SR-B1 is an open-air recycler that automates cash handling procedures within centralized and decentralized cash operations. The RevolAIR family of products created a middle automation category in retail cash management, which bridges the gap between a fully automated back-office recycler and the lack of automation in a scale/hand counting operation. The SR-B1 provides users 80 percent of the features of a back-office recycler for only 10 percent of the cost, making it a more economical and time efficient way to process cash. The RevolAIR SR-B1 features i-button technology, allowing unlimited permission-based features and automated workflows.
The RevolAIR is a part of Cassida PRO's cash room support platform, offering repair services that don't require on-site techs. To find out more information on the RevolAIR SR-B1, please visit: https://cassidapro.com/nrf-protect/.
About Cassida PRO:
Cassida PRO is a division of Cassida North America, America's number one brand in business-grade cash processing solutions. For more than a decade, Cassida North America has enabled small businesses to count, detect and process cash. The company has now built an innovative PRO Series brand to specifically serve banking, financial institutions, and larger retailers that require heavy duty, accurate and advanced solutions to meet their high-volume cash processing needs.
All Cassida PRO Series products are developed to solve real-world needs. We work directly with associates, tellers, cashiers and cash room employees, using their feedback and insight to build better, more intuitive products that streamline processes, save time and improve efficiencies in cash handling. Cassida PRO's lineup of products proceeds to evolve through continued development by our US-based product development team.
# # #
Media Contact:
Kirsten Woodard
714-366-6003